About Dr. Yee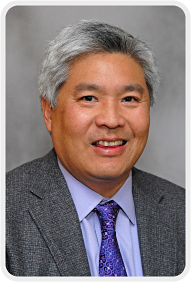 Douglas Yee, M.D. is director of the Masonic Cancer Center, University of Minnesota. A professor in the Departments of Medicine and Pharmacology, Dr. Yee holds the John H. Kersey Chair in Cancer Research. He is internationally known for his breast cancer research and more specifically for his laboratory research focused on the growth regulation of tumors by the insulin-like growth factors. Dr. Yee's curriculum vitae includes over 200 publications. He also maintains an active clinical practice in breast medical oncology at the Breast Center, University of Minnesota Medical Center.
Dr. Yee has served on numerous national grant review and cancer research and treatment policy panels including the National Cancer Institute's Cancer Center Parent Committee and the National Institutes of Health and Department of Defense Integration Panel. Dr. Yee is a Pew Scholar and a Komen Scholar for the Susan G Komen for the Cure and is a co-investigator on a V Foundation Translational Research Grant. He has an active leadership role in the ISPY-2 clinical trial where he serves on the Executive Committee, the Data Access and Publication Committee, and serves as co-chair of the Agent Selection Committee. Dr. Yee is also a member of the Scientific Advisory Committee for the Love/Avon Army of Women. Of note, Dr. Yee has served on numerous external advisory boards including the National Surgical Adjuvant Breast and Bowel Project and several cancer centers as well as other such boards across the country. Dr. Yee is a past chair of the Scientific Program Committee for the American Society of Clinical Oncology's 2013 Annual Meeting.
Dr. Yee graduated from the University of Michigan in Ann Arbor, earned his medical degree from the University of Chicago, and completed his residency in internal medicine at the University of North Carolina in Chapel Hill and his fellowship in medical oncology at the National Cancer Institute in Bethesda, MD. Before coming to the University of Minnesota, he held faculty positions in the Lombardi Cancer Center at Georgetown University in Washington, D.C., and at the University of Texas Health Science Center in San Antonio.